A new AERONET station set up in Ouarzazate (Morocco)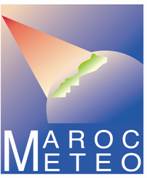 A new Cimel sunphotometer has been installed in Ouarzazate (Morocco) in middle February. This new station, now fully operational, is part of AERONET (AErosol Robotic Network; http://aeronet.gsfc.nasa.gov), and is co-managed by the Direction de la Météorologie Nationale (DMN) – Maroc Météo (http://extranet.marocmeteo.ma) and the State Meteorological Agency of Spain (AEMET) (www.aemet.es).
The new site is part of the project entitled "Sand and Dust Storm-Africa" (SDS-Africa). This project has been financed by the AECID ("Agencia Española de Cooperación Internacional para el Desarrollo"; International Cooperation Agency for the Development of Spain) through a World Meteorological Organization (WMO) Trust Fund (Atmospheric Research and Environment Programme). This project enhances the observation capacity of dust storms in Northern Africa, near the dust sources. The main goals of SDS-Africa are the characterization of the Saharan Air Layer, the early warning of dust storms, the verification of satellite based products, and the validation of regional and global dust models.
This project is also a contribution to the Sand and Dust Storm Warning Advisory and Assessment System Regional Center for Northern Africa, Middle East and Europe (http://sds-was.aemet.es/) hosted by AEMET and the Barcelona Supercomputing Center (www.bsc.es). The new station in Ouarzazate reinforces the fruitful joint cooperation between DMN and AEMET in atmospheric research and monitoring.
The Cimel sunphotometer has been installed in the facilities of the DMN at the Ouarzazate airport. Ouarzazate is relatively high-altitude small city (1,136 m a.s.l.) located at the Southeast of the Atlas cordillera on the edge of the Sahara.
You can visit the AERONET site here.
This photo shows the people involved in the installation of the Cimel at the Ouarzazate station. From left to right: Taoufik Zaidouni, Ramon Ramos, Hassan Oussha, Faquih Abdelkrim, Salama M'hammed and Jabal Ahmed. (Dr. Alberto Berjon is missing. He took the picture).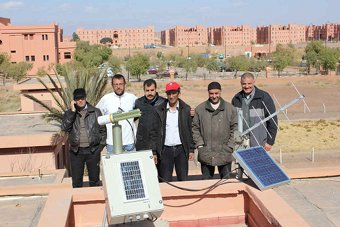 After the installation a short training course on installation, operation and basic maintenance was given to the personnel in charge of the Cimel sunphotometer.
We thank to M. Taoufik Zaidouni (Chief of Service of Altitude Observation Systems) and his team for their professionalism and warm hospitality.