First snow of the season at Pico del Teide Observatory (PTO)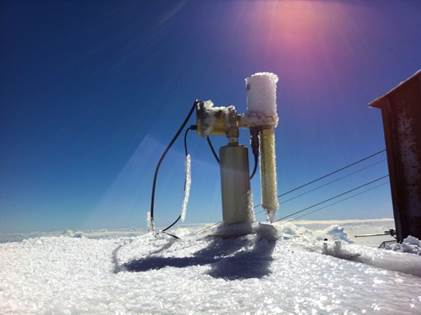 Last Monday December 2 we suffered the first episode of copious rains this autumn in Izaña. Although we recorded some more than 25 mm, temperatures were relatively high (between 4 and 8 ° C), so we will have to wait for the next few weeks to see snow in our Observatory. However, at the satellite station Pico del Teide (PTO), located in Terminal cable car station (http://www.telefericoteide.com/) at 3,555 m above sea level, it snowed with temperatures ranging from 0° and -2 ° C, and with moderate winds between 30 and 80 km/h, leaving nice winter pictures. The pressure ranged from 658.9 hPa to 656.1 hPa. For some instruments, such as the Cimel sunphotometers, it was the first experience in winter conditions at so high altitude, and it seems that they did not suffer any damage.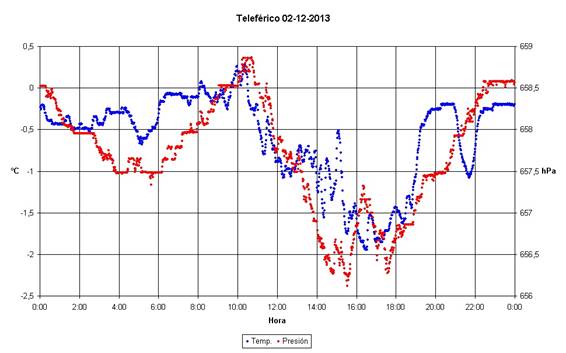 Pressure and temperature diurnal variation on Pico del Teide station (3,555 m a.a.sl.) on December 2nd, 2013.
The pictures have been kindly provided by the Engineer Luis Pintor, from Teide Cable Car (Teleférico del Teide). We take this opportunity to thank him and his team for the excellent work of technical and logistic support provides on a daily basis to PTO, one of the highest observatories in Europe.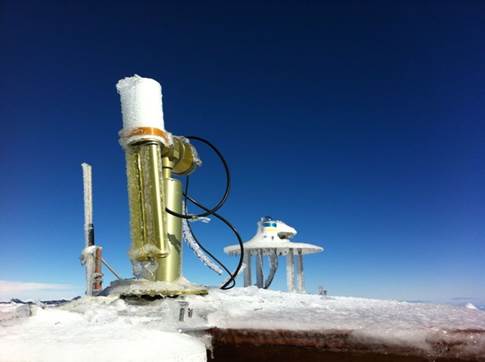 The AERONETCimel sunphotometer, in the foreground, and global and UV radiometers  (in the background)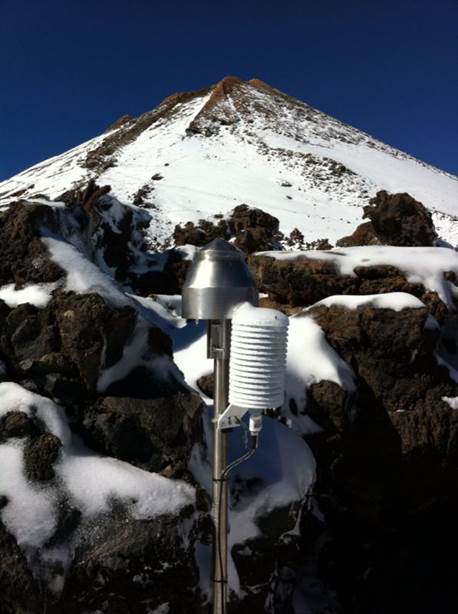 Air inlet of the surface ozone analyzer and temperature and relative humidity sensors at PTO.