Publication of the Izaña Atmospheric Research Centre 2012-2014 Activity Report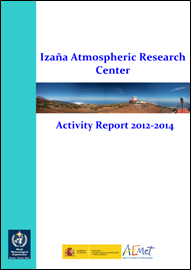 We are pleased to present the first Izaña Atmospheric Research Centre (IARC), from the State Meteorological Agency of Spain (AEMET) Activity Report (2012-2014).
Many of the IARC activities are part of the Global Atmosphere Watch Programme (GAW) of the World Meteorological Organization (WMO), and the associated networks (NDACC, TCCON, BSRN, MPLNET), and therefore the report is co-published by AEMET and the WMO GAW programme. GAW includes comprehensive programmes for the monitoring and investigation of greenhouse gases, the ozone layer and related ozone depleting substances, reactive gases, solar radiation, and chemical and physical properties of atmospheric aerosols. Izaña also constitutes an international platform where specific measurements are used to assess observations made on board satellites and simulations from chemical transport models.
Other IARC activities such as, for example, meteorological observations, which contribute to GCOS (Global Climate Observing System), date back to 1916. Therefore, next year (2016) we will celebrate 100 years of uninterrupted observations. In addition, the IARC is a WMO CIMO (The Commission for Instruments and Methods of Observations) Testbed for Aerosols and Water Vapour Remote Sensing Instruments, and plays an important role as a center of absolute calibration in global non-GAW observation networks such as AERONET (AErosol RObotic NETwork) or PANDORA. The IARC is also actively involved in the co-management of the WMO Sand and Dust Storm Warning Advisory and Assessment Regional Center for Northern Africa, Middle East and Europe shared between the World Weather Research Programme (WCRP) and the GAW Programme, hosted by AEMET and the Barcelona Supercomputing Centre (BSC).
The preparation of this first IARC activity report has been possible thanks to having achieved a critical mass that has allowed us to develop, in a balanced manner, relevant operational, research and development, capacity building, and scientific communication activities. IARC actually benefits from its dual mission, operational activities and research.
The activities described in this report are the result of the efforts of all those working in the IARC, from administration personnel, through technical staff, and ending with the researchers, as well as technicians and researchers from other collaborative institutions. Therefore, this report constitutes recognition to the team-effort of each and every one of them.
This first activity report also aims to be the business card that will open the various acts of tribute to be held throughout 2016. There is nothing better to celebrate the centenary of this center than reporting the many activities and the great development achieved after 100 years of life as a high mountain meteorological observatory, and 32 years contributing to the GAW programme and its predecessor the WMO Background Atmospheric Pollution Monitoring Network (BAPMoN).
Henceforth the IARC Activity Reports will be published on a bi-annual basis.
The report is available here