The Hirlam Management Group visits the Izaña Atmospheric Observatory

The High Resolution Limited Area Model Consortium (HIRLAM – http://hirlam.org) was established in 1985, and it is integrated by the National Meteorological Services from Denmark, Estonia, Finland, Iceland, Ireland, Lithuania, Holland, Norway, Spain and Sweden, with France as an associated member. In 1991 began a collaboration with the ALADIN, formed by 16 countries: Algeria, Austria, Belgium, Bulgaria, Croatia, Czech Republic, France, Hungary, Morocco, Poland, Portugal, Rumania, Slovakia, Slovenia, Tunis and Turkey.
For two decades this group has participated in the development and exploitation of high resolution numerical weather prediction system for an operational use in weather forecast, in which AEMET participates since 1997. The HIRLAM analysis and forecast system establishes the base for the short-range operative weather forecast in the mentioned countries. The contribution to HIRLAM programme provides to AEMET the operative numerical weather prediction system for the short-range (0-4 days), being the base for the 90% of the AEMET's forecasts, and the hazard weather warning system for regional Civil Protection authorities.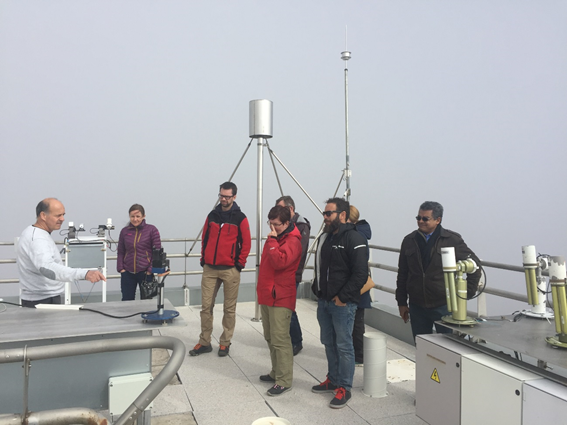 The Hirlam Management Group during the visit to the Izaña Atmospheric Observatory
A memorandum of cooperation was signed in 2005 between ALADIN and HIRLAM consortium (http://hirlam.org/index.php/hirlam-programme-53 consortium), with the primary objective of "provide to the ALADIN and HIRLAM Members a 'state of the art' numerical weather prediction system for short and very short range, including nowcasting" not only for research and development, but also for operational use.
Since then, the main objectives of the collaboration between ALADIN and HIRLAM countries are the studies of "convection permitting" scales, and the adjustment of the AROME model developed by Meteo-France for the use as Numerical Weather Prediction System shared with this 26 ALADIN-HIRLAM countries. HIRLAM was configured as HARMONIE-AROME, and it is the future of AEMET operative numerical weather prediction system, and actually also from other 9 countries that are part of the Consortium.
Since January 2016 the HIRLAM Management Group is formed by Jeanette Onvlee-Hooimeijer (KNMI) as the Program Manager, Roger Randriamampianina (Met.no) as Data Assimilation and Use of Observations Project Leader, Inger-Lise Frogner (Met.no) as Probabilistic Forecasting Project Leader, Lisa Bengtsson (SMHI) as Physics and Dynamics Project Leader, Bent Hansen Sass (DMI) as Quality Control Project leader, Patrick Samuelsson (SMHI) as Surface Processes Project Leader, and Daniel Santos Muñoz (AEMET) as Systems Project Leader.
This Management Group visited the Izaña Atmospheric Observatory, in Tenerife, last 1st of February 2017, during the regular Management Group Meeting. In this visit, the HIRLAM Management Group appreciated the potential possibilities of Izaña facilities as Numerical Weather Prediction System evaluation/calibration platform.