The ozone hole affects for the third time this year to Patagonia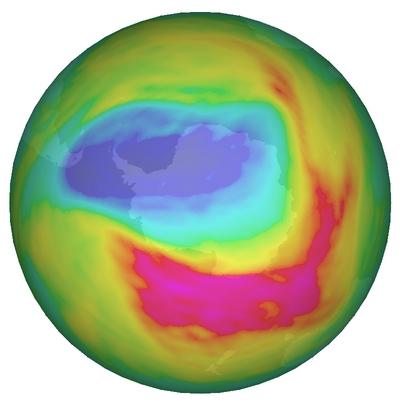 For the third time this year the ozone hole hits cities in southern Argentina and Chile, even reaching 51° S of Rio Gallegos in the event of October 16 (London is at the same latitude but in the northern hemisphere).
According to WMO the area affected by the ozone hole has peaked this year on September 16 with an area greater than that recorded in 2010 and 2012 but lower than 2011. The ozone deficit this year is also higher than in 2010 and 2012.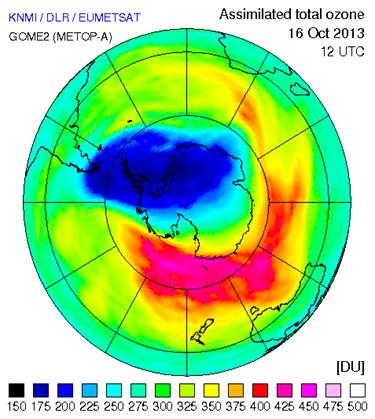 Total ozone column on the South Pole observed by GOME2 (METOP-A). Data provided by the Royal Netherlands Meteorological Institute (KMNI); In blue, very lo w ozone (corresponding to ozone hole conditions) impacting south of Patagonia. http://www.temis.nl/protocols/o3hole/
The ozone hole events that have impacted south of Argentina and Chile are especially harmful in October and November when the sun is above the horizon and the intensity of ultraviolet radiation increases considerably. In the event this October recorded ozone decreased more than 50% of normal values and the UV Index (UVI) went from a value of 4 to 10.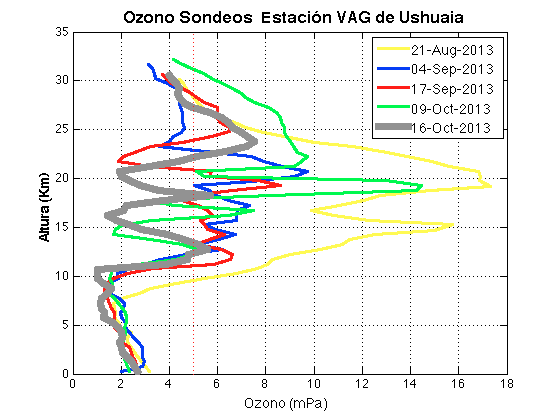 Ozone profiles over Ushuaia (Argentina) between 24 August and 16 October. Very low ozone concentrations between 15 and 25 km altitude are observed from September 4.
The ozone hole affected populated areas of Patagonia on September 4 and 16, and again, and with great intensity, on October 16. The graph shows a sharp decrease in the ozone layer between 15 and 25 km altitude over the city of Ushuaia. Ozonesondes are launched at the Global Atmosphere Watch (GAW) station Ushuaia on a weekly basis during the ozone hole time period. This program is a result of a joint project of the National Meteorological Service (SMN, Argentina), the Government of Tierra del Fuego (Argentina), the National Institute for Aerospace Technology (INTA, Spain) and the State Meteorological Agency (AEMET, Spain).
AEMET, in collaboration with INTA, has a network of stations in Antarctica and Patagonia, with other Argentinean institutions, to monitor ozone and ultraviolet radiation in the Antarctic polar vortex in quasi-real time. Results that are used in the development of the Antarctic ozone bulletins regularly published WMO. http://polarvortex.aemet.es/
http://www.oracle-o3.aemet.es/.
The latest bulletin is available here:
http://www.wmo.int/pages/prog/arep/documents/ant-bulletin-3-2013.pdf