University of Manchester visit to Izana GAW site -2017
In April 2017, 3rd year Environmental Science undergraduates from the School of Earth and Environmental Science (SEES) at the University of Manchester, visited the Izana Atmospheric Observatory on the island of Tenerife to learn about the important role of the site as a Global Atmospheric Watch station in monitoring global (and regional) atmospheric composition.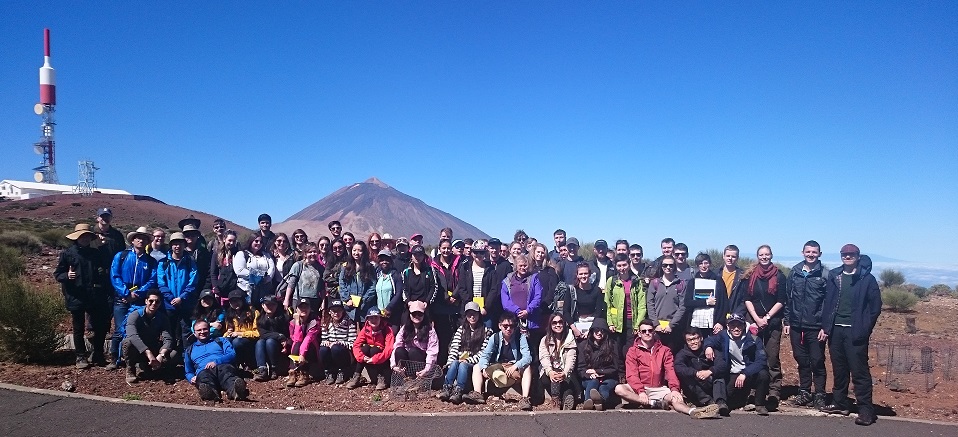 Students and staff members of SEES University of Manchester at Izana Atmospheric Observatory (CIAI-AEMET)
The Tenerife field course provides an opportunity to study a complete environmental system and links between different aspects of the system, through field-based examination of a complete environmental system and observations of the approaches that the Tenerife government and population have taken towards achieving a sustainable lifestyle.
The field course involves study of the geological, the atmospheric, and vegetation systems of the island. The basic structure of the terrain on Tenerife originates from volcanic processes, so we begin within the spectacular caldera in the centre of the island. The remarkable atmospheric conditions of this region and how they are modulated by the shape of the volcanic edifice dictate how water enters the land environment. Ocean conditions affected by the cold Canary Current from the north also affect local climate. We study how soil is produced by biological, physical and chemical processes acting on the volcanic rock, how water is extracted from the atmosphere in part by flora endemic to Tenerife and how that water penetrates the edifice or forms runoff. We study how that runoff, and coastal erosion and landsliding, then shapes the valleys and other relief of the island. As groundwater has formed an important resource for the population, we look into its contamination and implications of demand associated with agriculture and tourism on water resources.
These different areas of study provide the background against which the impacts of industrialisation, agriculture and tourism are considered by the students as part of their learning and assessment. At the end of the field course the students are able to assess the sustainability of life on the island in terms of housing, water and energy demand.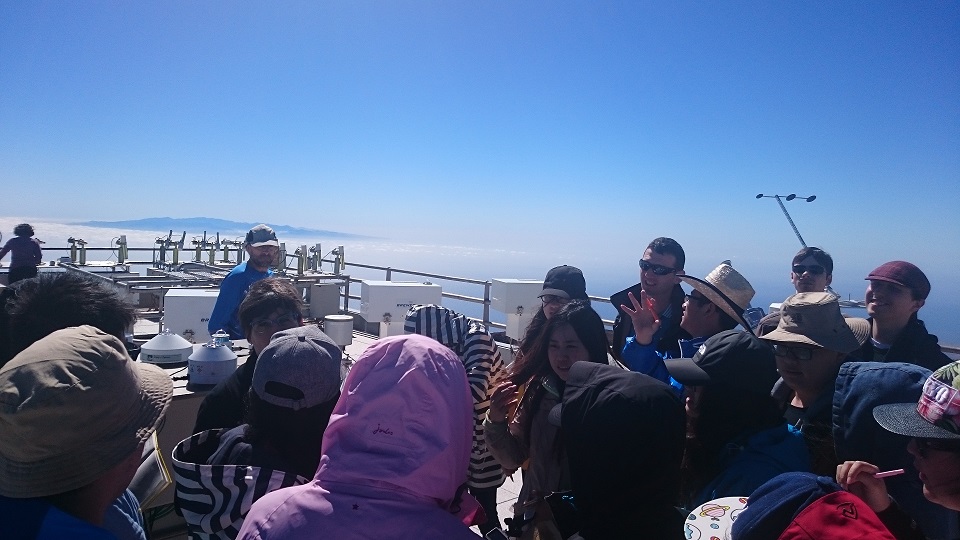 Students and staff members of SEES University of Manchester during the visit to the roof of the Izana Atmospheric Observatory.
Teaching is delivered by a group of experts consisting of staff members of SEES (Dr Grant Allen, Prof Roy Wogelius and Dr Bart Van Dongen) with a diverse background and experts stationed on Tenerife with whom we have research contacts, such as the director of the Izana Atmospheric Research Centre, Dr. Emilio Cuevas-Agulló and Prof. Nemesio Perez of ITER (Technological Institute for Renewable Energies).