AEMET COLLABORATES WITH RESEARCHERS OF UNIVERSITY OF LA LAGUNA IN THE STUDY OF PHOTOCATALYTIC ACTIVITY OF NATURAL VOLCANIC MATERIALS FOR PURIFICATION OF WASTEWATER USING SOLAR LIGHT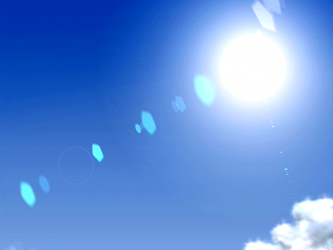 Researchers of the University of La Laguna, in collaboration with the Meteorological State Agency of Spain (AEMET), are carrying out studies envisaged to the evaluation of the photocatalytic activity of several volcanic natural materials to be used as photocatalysts in processes of air or wastewater decontamination by means of the use of solar light. Up to the moment there have been studied the photocatalytic performances of two volcanic materials (black sand of volcanic origin and black volcanic ashes) in presence of sunlight for the decomposition and removal of pollutants present in wastewater. For that purpose, slurry type photoreactors have been used with the photocatalytic material in suspension and using as source of energy solar light.
The results obtained with these natural materials acting as photocatalysts are being evaluated and compared with photocatalytic materials standard as the commercial TiO2, revealing these volcanic materials as very promising candidates to be used as photocatalysts for wastewater treatment and decontamination processes using sunlight as a sustainable energy source. Also, other improved photocatalytic systems, based in the use of luminescent materials that increase the UV radiation reaching to the photocatalyst, are being studied.
The Technologies of Advanced Oxidation (TAO) are a sustainable and environmental friendly way of removing contaminants present in both aqueous and gaseous effluents. One of these technologies is the Heterogeneous Photocatalysis based on the degradation of organic pollutants in wastewater or in contaminated air by means of a photocatalytic reaction promoted by the action of light on the surface of a semiconductor (photocatalyst). Thus, the photocatalytic process makes possible the degradation, and even the mineralization of organic pollutant compounds according to the following global reaction:

It is a clean and sustainable technology for the decontamination of wastewater or polluted air using solar light or ultraviolet light from lamps, with the mediation of a photocatalytic material that activates the chemical reaction of oxidation of the pollutant compounds. Besides its application to the elimination of pollutants, by means of photocatalytic processes it is possible to obtain energy (hydrogen) from certain effluent or residues offering alternatives to the energetic current needs.
The research team is formed by a multidisciplinary equipment of investigators of the University of La Laguna: Dra. Mª Emma Borges Chinea from Chemical Engineering Department; Dr. Juan Carlos Ruiz Morales, Dr. Pedro Esparza Ferrera and Dr. Pedro Martín Zarza from Chemistry Department and Dr. Jorge Méndez Ramos from Physics Department, with the collaboration of the students Marta Sierra, Pablo Acosta and Silvia Navarro. The Izaña Atmospheric Research Center provides the facilities at Izaña and Santa Cruz, UV radiation data and other ancillary data.

From left to right: Dr. Mª Emma Borges, Silvia Navarro and Marta Sierra (former AEMET's student) PhD students