Arctic on the verge of record ozone loss
Arctic-wide measurements verify rapid depletion in recent days
Torrejón de Ardoz, March 13, 2011
Santa Cruz de Tenerife, March 13 2011
Unusually low temperatures in the Arctic ozone layer have recently resulted in massive ozone depletion. The Arctic is therefore heading for a record loss of this trace gas that protects the Earth's surface against ultraviolet radiation from the sun. This has been found by measurements carried out by an international network of over 30 ozone sounding stations spread all over the Arctic and Subarctic and coordinated by the Potsdam Research Unit of the Alfred Wegener Institute for Polar and Marine Research in the Helmholtz Association (AWI) in Germany.
The National Institute of Aerospace Technology (INTA), that operates instrumentation for the measurement of ozone destruction in the Sub-Arctic region since 1991, as a result of European project EASOE, participates in the project in collaboration with the Icelandic Meteorological Institute with a station located in the base of Keflavik, to about 60 km of the Reykjavik. On the other hand the ozone team of  the Izana Atmospheric Research Center (Meteorological State Agency from Spain –AEMET-), that maintains the European reference of one of the standard instruments for ozone measurement (the Brewer spectrophotometer) is now in the Sodankyla polar station, contributing to the monitoring of this phenomenon.
For several years now scientists have pointed to a connection between ozone loss and climate change. The warming at ground level might result in colder winters in the stratosphere which, in turn, would favor higher ozone destruction. However the complicated details of interactions between the ozone layer and the climate change are not well understood yet, and are being investigated.
In the long term the ozone layer will recover thanks to extensive environmental policy measures for its protection. The current record-breaking ozone loss does not alter this expectation in the least. By virtue of the long-term effect of the Montreal Protocol, significant ozone destruction will no longer occur as of the second half of this century. The Montreal Protocol is an international treaty adopted under the UN umbrella in 1987 to protect the ozone layer and for all practical purposes bans the production of ozone-depleting chlorofluorocarbons (CFCs) worldwide. Already released CFCs, however, will not vanish from the atmosphere until many decades from now. Until that time the fate of the Arctic ozone layer essentially depends on the temperature at an altitude of around 20 km and is thus linked to the development of earth's climate.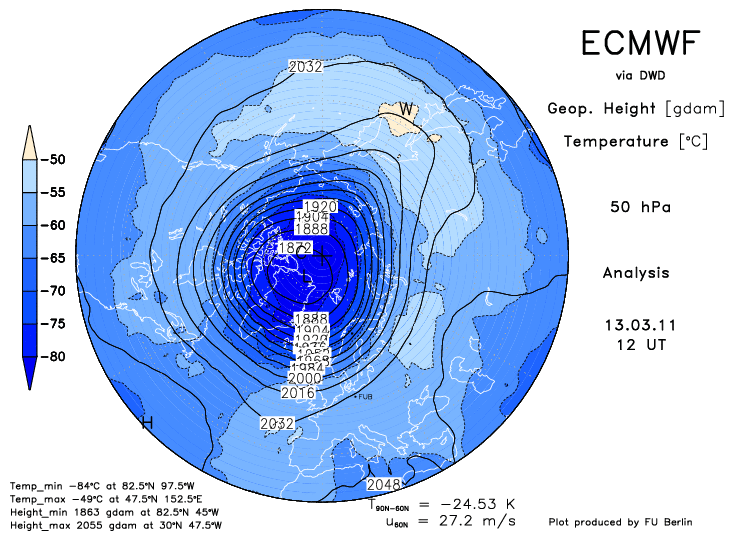 Situation of the Arctic stratosphere on March 13th, 2011, where temperatures below -83ºC are observed (Data from ECMWF elaborated by DLR)
Notes for editorial offices:
This joint statement has been elaborated in coordination with the Alfred Wegener Institute (Germany), the institution in charge of the project based in Match, with the participation of 30 institutions.
The contact persons in Spain are:
From INTA
Dr. Concepción Parrondo Sempere (parrondosc[AT]inta.es) and Dr. Manuel Gil Ojeda (gilm[AT]inta.es)
From AEMET
Alberto Redondas Marrero (aredondasm[AT]aemet.es) and Dr. Emilio Cuevas Agulló (ecuevasa[AT]aemet.es)