Dimensiones culturales del cambio climático: buscando marcos para la acción
El pasado 18 de junio se celebró en el Observatorio de Izaña (Centro de Investigación Atmosférica de Izaña) una de las sesiones del Taller "Dimensiones culturales del cambio climático: buscando marcos para la acción" organizado por el Centro de Estudios Ecosociales (CEES) de la Universidad de La Laguna. Este seminario tenía como objetivo colaborar en el proceso efectivo de creación de políticas sobre el problema cultural del cambio climático desde una labor eminentemente interdisciplinar. De este modo trataba de sentar las bases para una auténtica investigación colaborativa cuyo objetivo es la creación de un paradigma de investigación integrado sobre los factores culturales del cambio climático. Por otro lado el seminario se conectó con otras actividades complementarias abiertas al público en general que tenían por objeto difundir los principales aspectos culturales del cambio climático y sensibilizar a los ciudadanos sobre la importancia de los mismos.
Los directores del Seminario fueron Thomas Heyd (University of Victoria, Canada; Philosophy, Environmental Studies), José Manuel de Cózar (Departamento de Historia y Filosofía de la Ciencia y Secretario del Centro de Estudios Ecosociales de la ULL, Spain) y Karen O'Brien (Department of Sociology and Human Geography, University of Oslo, and Chair, Global Environmental Change and Human Security Project, Norway).
El Programa del Taller se puede bajar aquí.
El resumen y las conclusiones del Seminario-taller se encuentran aquí.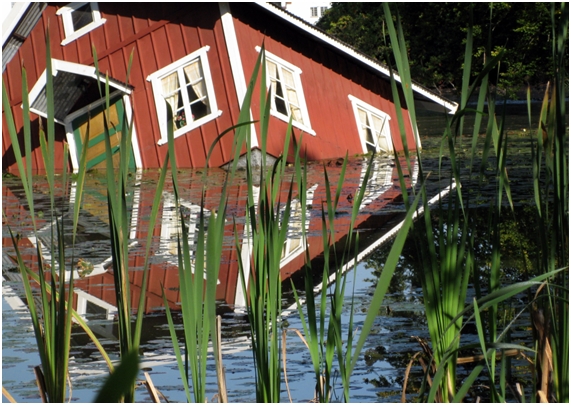 La fotografía es de Charlotte Barrow (2009), y muestra la obra titulada "Atlantis: Rendición artística de los efectos del cambio climático"  de los artistas finlandeses Tea Mäkiää y Halldór Úlfarsson, creada para WANÅS Foundation y expuesta en "Footprints" exhibition. Se cuenta con el permiso de la autora. 
Participantes del Seminario-Taller en el Observatorio Atmosférico de Izaña