Eubrewnet observations are now accessible from the World Ozone and UV Radiation Data Centre (WOUDC) of the World Meteorological Organisation (WMO)
Click here for the Spanish version
EuBrewNet (European Brewer Network) is a federated network of Brewer spectrophotometers for ozone measurement, which was created in 2014 within the framework of the COST-ES1207 action (http://www.eubrewnet.org/cost1207/) as a European project, is now a global network with more than 100 instruments around the world coordinated by the Spanish State Meteorological Agency (AEMET) through the Izaña Atmospheric Research Centre.
Users of the WMO database can now search for and download observations from the EuBrewNet network as they are accessible from the global database interface (https://woudc.org/data/explore.php). The user is automatically redirected to the EuBrewNet servers to start downloading the data.
The main difference between the two databases is that whilst EuBrewNet observations are processed centrally from the raw data, fat WOUDC only final data evaluated by the stations themselves, using their own procedures and data evaluation criteria, are stored..
Another important difference is that whilst with WOUDC, data from the stations are available once they have been refined and evaluated with calibrations, a process that usually takes several months or even up to a year, EuBrewNet collects the data in real time, they are subjected to strict quality control and are classified in levels according to the process; from level zero (raw data), level 1.5 for the data that is disseminated in real time and level 2 for the final data for climatological studies. In other words, level 1.5 data are available within minutes of observations, making it a unique ozone observing data set for systems requiring data assimilation (Copernicus) or validation of satellite measurements. EuBrewNet is considered as a Fiducial Reference Network of the Copernicus validation program.
Level 2 data, to which a "Pre" and a "Post" calibration has been applied, correspond to data that is sent from the Brewer stations to the WOUDC.
Stations that are part of EuBrewNet, can choose to send EuBrewNet level 2.0 data to the WOUDC automatically, which is a huge saving of time and effort for them. In addition, the EuBrewNet network uses the latest internationally agreed ozone absorption coefficients for raw data processing.
Additionally, the instruments of the EuBrewNet network can use the calibrations provided by the RBCC-E (housed at the Izaña Observatory), which maintains the world ozone reference for Brewer spectrophotometers.
Finally, another enormous advantage of EuBrewNet is that, using the raw data, and provided it has the information of the calibrations of each station, it can obtain other products such as UV radiation, ozone profile with Umkher methodology, and aerosol optical depth in the UV range, thus contributing to other atmospheric observation communities apart from that of ozone.
Figure 1. The Eubrewnet network centrally processes ozone, ultraviolet radiation and aerosol optical depth observations provided by Brewer spectrophotometers.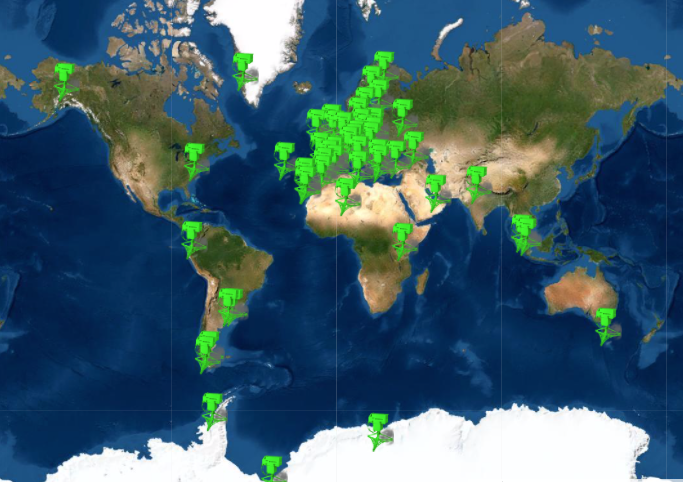 Figure 2. The EuBrewNet network currently has 107 instruments registered all over the world.
You can see the EuBRewNet stations and their data in real time at: http://www.eubrewnet.org
https://en.wikipedia.org/wiki/Umkehr_effect