FOREST FIRE IN TENERIFE. THE AIR POLLUTANTS EMITTED IN THE FOREST FIRE OCCURRED IN TENERIFE WERE DETECTED AT THE IZAÑA OBSERVATORY
 

The 19 and 20 of July 2012, smoke and other pollutants emitted by the forest fire that occurred in Tenerife from 15 to 20 July were detected in the Izaña Observatory.

 

 

 
From July 15 to 22 July 2012, a forest fire occurred in the WSW sector of Tenerife Island. Because of the prevailing SE winds, smoke was transported to NW at altitude higher than 3000 meters above sea level and about 1000 meters above ground. The 19 of July, winds turned, resulting in a NW subsidence airflow and in the downward transport of the fire smokes. Then, these pollutants were detected in the Izaña Atmospheric Observatory, placed at a 2400 meters above sea level.
Figure 1 shows the trajectory of the smoke in these days.
Figure 2 shows pictures taken from Las Cañadas at about 2400 masl.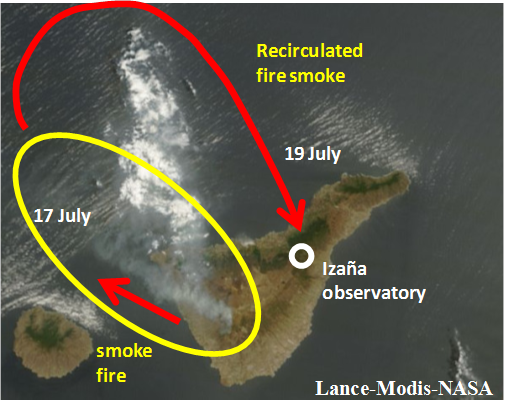 Figure 1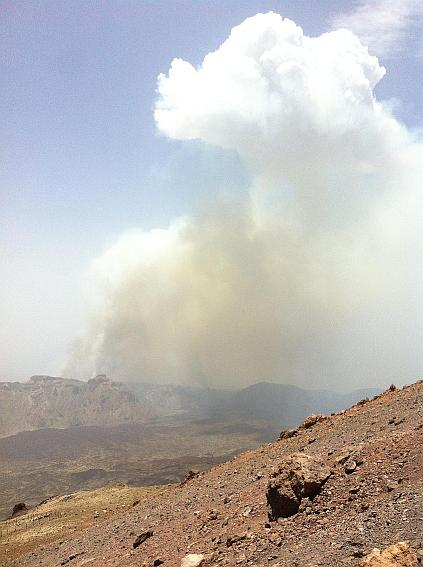 Figure 2
Figure 3 shows data of several parameters measured with in-situ techniques in the Izaña observatory from 19 to 20 of July 2012. Diluted and re-circulated smokes were detected the 19 of July, periods 01:00 – 04:00 and 21:00 – 23:00 GMT, and day 20 July,  periods 00:00 – 05:00 GMT and 10:00 – 14:00 GMT. These periods are highlighted in black arrows. These are different to the red arrow events, linked to the presence of urban air pollutants in Izaña due to the upward transport from low levels of Tenerife. In the case of the 20 of July 10:00 – 14:00 event, urban pollutants are mixed with the fire smokes.
The smoke of the fires, includes very small particles, light absorbent and mixed with carbon monoxide (CO). These light absorbent small aerosols (less than 1 micron), favours the heating of the ambient air. This has implications on climate.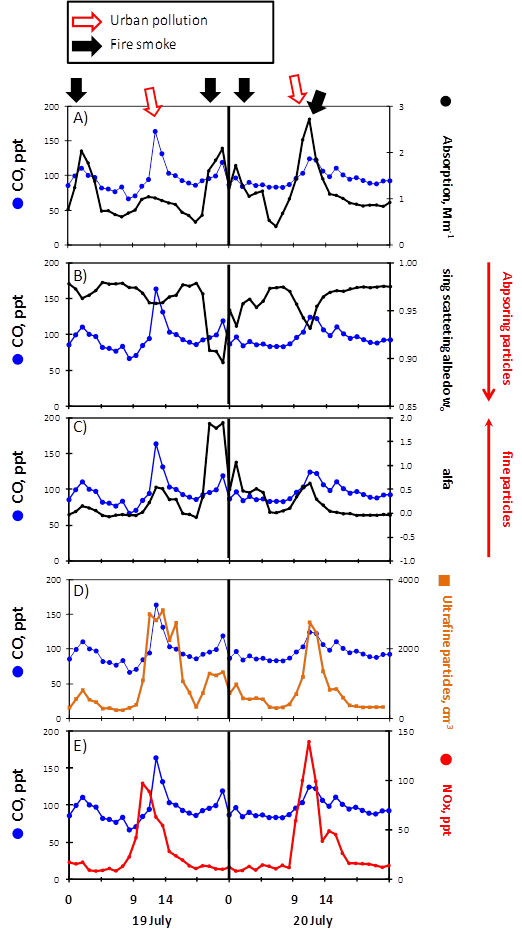 Figure 3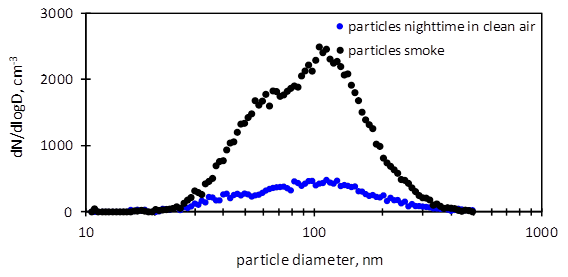 Figure 4