New paper dealing ground-based and satellite ozone data comparison at Izaña Observatory has been published in AMT-Discussions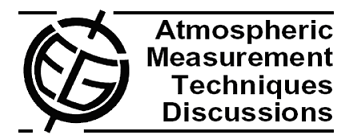 Satellite data from Infrared Atmospheric Sounding Interferometer (IASI), Ozone Monitoring Instrument (OMI) and Global Ozone Monitoring 5 Experiment (GOME-2) are compared with data from two ground-based spectrometers (Fourier Transform Infrared spectrometer –FTIR-, and Brewer), which are part of the Network for Detection of Atmospheric Composition Change (NDACC) super-site of Izaña (Tenerife). The results correspond to the intensive campaign performed from March to June 2009.
This intercomparison leads to the first validation of the IASI O3 total columns over Izaña. Also two different retrieval algorithms for deriving the O3 total amount from IASI are compared. An excellent agreement of −2.0 Dobson Units (DU) (±1.4)% and 1.5 DU (±2.2)% was found when comparing FTIR and Brewer with IASI results derived from an analytical algorithm. On the contrary differences of −5.2 DU (±1.9)% and −0.9 DU (±2.5)% were found with the operational product of IASI compared to the FTIR and Brewer measurements.
To download the paper, click here.
To enter in the paper discussion, click here.