New study: Clouds and Ice Nuclei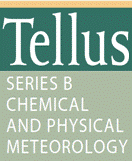 The state of slightly supercooled cloudsmay change by the presence of a few particles capable ofcatalysing freezing (Ice Nuclei), and potentially result in precipitation. Journal Tellus Bpublishes a new study on Ice Nuclei observed in three observatories: Junfraujoch (3580 masl, Swiss Alps), Izaña (2370 masl, Tenerife – Canary Islands) andChaumount (1136 masl, Swiss plateau). The sampling at Izaña allowed to collect aerosol samples in the dust laden Saharan Air Layer.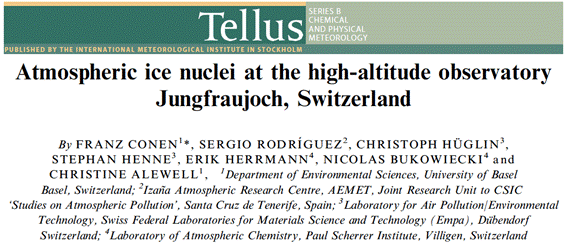 We investigated the atmospheric abundance ofparticles active as ice nuclei at -8ºC over the course of a year. Results indicate a strong seasonality of such ice nuclei at Jungfraujoch. Values were largest during summer (between 1 and 10 m-3) and about two orders ofmagnitude smaller during winter. Sahara dust events had a negligible influence on ice nuclei (-8ºC) at Jungfraujoch. Seasonality in the boundary layer was not observed in the upper, but in the lower bound of ice nuclei concentrations.
Low ice nuclei concentrations were only found on cold winter days, when such particles were more likely to have already been activatedand deposited than on warmer days. A good correlation between ice nuclei and maximum daily temperature at Jungfraujoch suggests that their abundance at Jungfraujoch may be limited most of the year bymicrophysical processing related to IN activation in approaching air masses.
This study was developed within the frame of the research project POLLINDUST (CGL2011-26259) funded by the Nacional Plan forI+D+iof Spain.
Publication:
Authors: FRANZ CONEN, SERGIO RODRIGUEZ, CHRISTOPH HÜGLIN, STEPHAN HENNE, ERIK HERRMANN, NICOLAS BUKOWIECKI and CHRISTINE ALEWELL.
Title: Atmospheric ice nuclei at the high-altitude observatory Jungfraujoch, Switzerland.
Journal: Tellus B 2015, 67, 25014.
FREE DOWNLOAD ARTICLE
http://www.tellusb.net/index.php/tellusb/article/view/25014