Participation in the celebrations of "World Meteorological Day"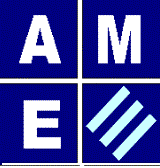 During the 16th and March 17th World Meteorological Day celebrations were held at the "Cosmocaixa" Museum located in the Alcobendas town (Madrid). These events were organized by the Spanish Meteorological Association (Asociación Meteorológica Española –AME-) and "la Caixa" Foundation, with the collaboration of the Meteorological State Agency of Spain (AEMET).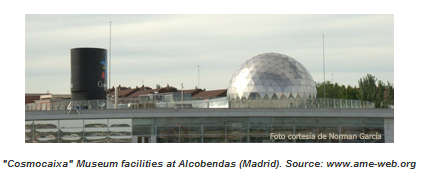 With the aim of bringing weather science to the general public, various activities were held, as informative workshops, where attendees could learn clouds and atmospheric meteors identification and classification and the instruments used by meteorologists to study the atmosphere. A meteorological balloon was launched and there was a conference on the weather men's work and media. Results of the photo contest organized by AME were presented.
The Izaña Atmospheric Research Center was present in these celebrations represented by our fellow Ruben del Campo, observer and GAW technician, who led the workshop entitled "Observation of Clouds and Meteors". The workshop was well attended, and people showed great interest in these matters. Many photographs included in the presentation of the workshop were taken by Ruben at Izaña Observatory, an ideal place to observe different types of clouds.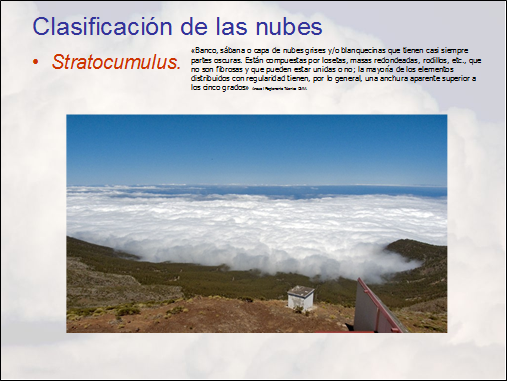 Screenshot of two of the slides of the "Observation of Clouds and Meteors" presentation with photographs taken at the Izaña Observatory.