Participation in the SPARC Regional Workshop 2015


The Izaña Atmospheric Research Center, together with the Karlsruhe Institute of Technology, have participated with an invited talk in the "SPARC Regional Workshop 2015" on the "Role of the stratosphere in climate variability and prediction", which was held on 12-13 January 2015 in Granada (Spain).
SPARC (Stratosphere-troposphere Processes And their Role in Climate) is a core project of the World Climate Research Program (WCRP) that coordinates international efforts to bring knowledge of the stratosphere to bear on relevant issues in climate variability and prediction. SPARC provides expertise in several key areas related to climate variability and climate change, such as dynamical variability, ozone, stratosphere-troposphere dynamical coupling, gravity waves, temperature trends, data assimilation, etc. The purpose of this "local workshop" is to bring international and Iberian SPARC science together, to promote interaction among researchers and to identify the main SPARC-related research topics of relevance to the Iberian region.
The talk entitled "Long-term monitoring of atmospheric trace gases by using ground-based Fourier Transform Spectrometer at the Izaña Atmospheric Observatory" was focused on the potential of the Fourier Transform Spectrometry observations for monitoring and researching the troposphere, the stratosphere and their interchange processes through some examples of our activities.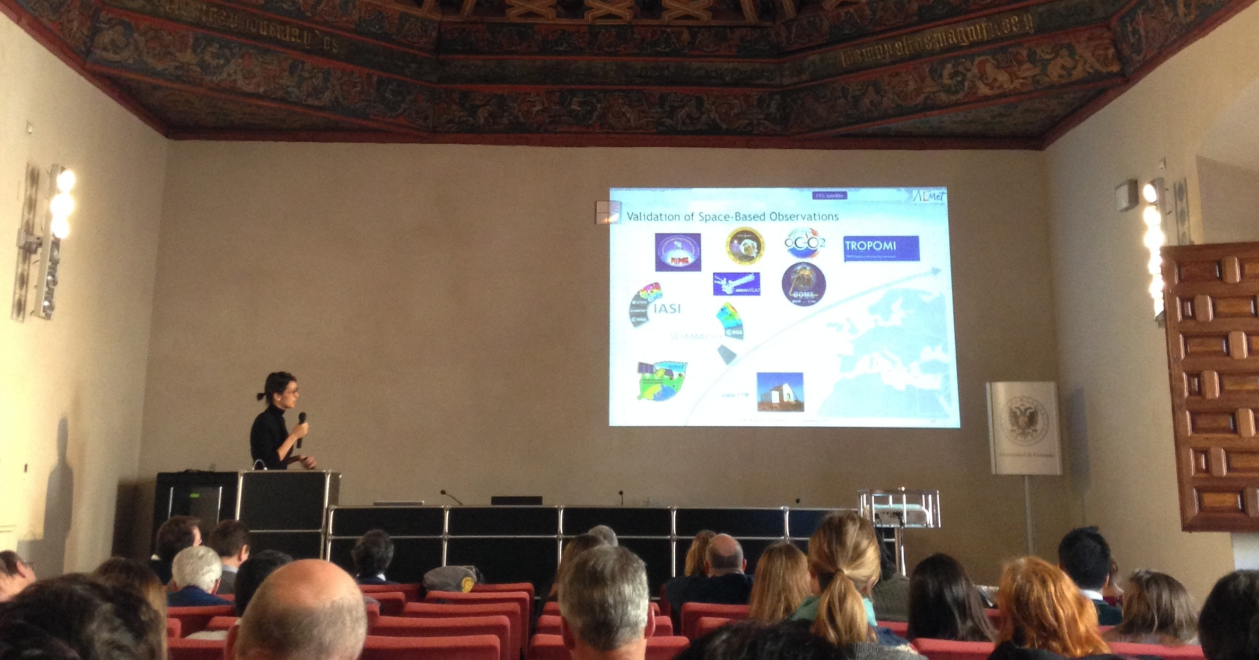 Omaira García, from the IARC, during her talk at the SPARC Regional Work in the Palacio de la Madraza (Granada).
For further information about meeting please refer to: http://granada-en.congresoseci.com/sparc2015