Publication of the Izaña Atmospheric Research Centre 2017-2018 Activity Report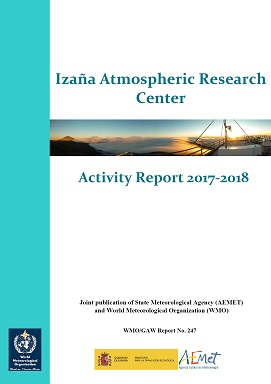 We are pleased to present the third Izaña Atmospheric Research Centre (IARC), State Meteorological Agency of Spain (AEMET) Activity Report (2017-2018), published as the World Meteorological Organization (WMO) Global Atmospheric watch (GAW) Report nº 247.
Many of the IARC activities are part of the Global Atmosphere Watch Programme (GAW) of the World Meteorological Organization (WMO), and the associated networks (NDACC, TCCON, BSRN, MPLNET). GAW provides international leadership in research and capacity development in atmospheric composition observations and includes comprehensive programmes for greenhouse gases, the ozone layer and related ozone depleting substances, reactive gases, solar radiation, and chemical and physical properties of atmospheric aerosols. The Izaña Atmospheric Observatory also constitutes an international platform where specific measurements are used to evaluate observations made on board satellites and simulations from chemical transport models.
The IARC hosts the GAW Regional Brewer Calibration Center for Europe (RBCCE), maintining the world Brewer ozone reference, is a WMO Commission for Instruments and Methods of Observations (CIMO) Testbed for Aerosols and Water Vapour Remote Sensing Instruments, and plays an important role as a center of absolute calibration in other global observation networks such as AERONET (AErosol RObotic NETwork) or PANDONIA (PANDORA photometers network).
The IARC is also actively involved in the co-management of the WMO Sand and Dust Storm Warning Advisory and Assessment Regional Center for Northern Africa, Middle East and Europe shared between the World Weather Research Programme (WCRP) and the GAW Programme, hosted by AEMET and the Barcelona Supercomputing Centre (BSC).
The activities described in this report are the result of the efforts of all those working in the IARC, from administration personnel, through technical staff, and ending with the researchers, as well as technicians and researchers from other collaborative institutions. Therefore, this report constitutes recognition to the team-effort of each and every one of them.
The Izaña Atmospheric Observatory was inaugurated in 1916 and since that date has carried out uninterrupted meteorological and climatological observations which are relevant in climate analysis. The urgency of actions related to the state of climate and the environment requires that the public and decision-makers have access to the best available science and high-quality atmospheric composition data. This report aims to contribute to the dissemination of recent information on atmospheric composition in the current context of climate urgency.
The report is available here.