Radiation Research and Development activities in Spain Workshop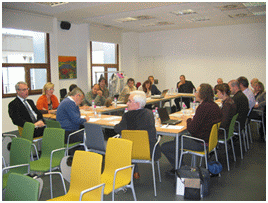 Experts representing the main research centres, universities and technical institutions involved in solar thermal energy and radiation programs in Spain met together at the "Centro Nacional de Energías Renovables-CENER" (Navarra, Spain) on October 20, 2009. Information and data exchange, joint research and development in solar radiation at the Iberian Peninsula were main subjects of the meeting. Some specific aspects concerning the Baseline Surface Radiation Network (BSRN), a world reference radiation network contributing to the Global Atmospheric Watch Program were also discussed. The Izaña Atmospheric Observatory (IZO) is BSRN station since May 2009. 
Experts from the Meteorological State Agency of Spain (AEMET; Izana Atmospheric Research Center), CIEMAT, ITC, INTA y the Universities of Valladolid, Sevilla, Jaén and Valencia participated in the workshop.