Technological cooperation with SIELTEC Canarias: SONA, an Automatic Cloudiness Observation System

A new 640×480 pixel resolution CCD 2-Pi sky camera (SONA: Sistema de Observación Automático de Nubes; Automatic Cloudiness Observation System) has been developed at the Izaña Observatory by the R+D Sieltec Company in collaboration with the IARC.
This a robust and fully automated total sky camera which takes pictures in visible and infrared ranges at programmed schedule (normally every 5 minutes). The great advantage of this new camera is the possibility of taking high resolution pictures during both day (colour) and night (W/B) periods. The camera is temperature controlled. A rotating shadow band impedes the CCD sensor saturation caused by direct light from the sun or the moon.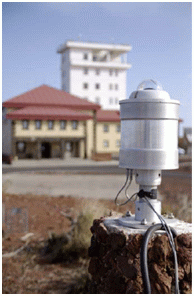 SONA camera at Izaña Atmospheric Observatory

Example of images taken in the morning (left), and in the night (right).
Images are automatically sent by FTP and stored in a web-based database every 5 minutes. Algorithms for automatic detection of cloudy sky fraction have been implemented. New derived products such as flow velocity estimation, height and type of clouds are now under development.
This a pilot joint experience of the IARC and the SIELTEC Company. The "SONA" project has received a subvention for its development in 2007 and a second support in 2008 within the Technological Innovation INNOEMPRESA program with funds from the FEDER program, Government of the Canary Islands, and the Ministry of Industry, Tourism and Commerce of Spain.
New developments of environment devices are planned in near future in cooperation with SIELTEC.