The Newsletter of the GAW-PFR Aerosol Optical Depth Network
The Newsletter of the GAW-PFR Aerosol Optical Depth Network
We welcome the first number of the Newsletter of the Global Atmospheric Watch (GAW) – Precision Filter Radiometer (PFR) Aerosol Optical Depth Network published by the World Radiation Center.
This network has been designed and implemented by the World Optical Depth Research and Calibration Centre (WORCC). The newsletter presents the last activities and upgrades performed within the network.
The Izana Atmospheric Observatory is one of the 12 permanent stations of the GAW-PFR network.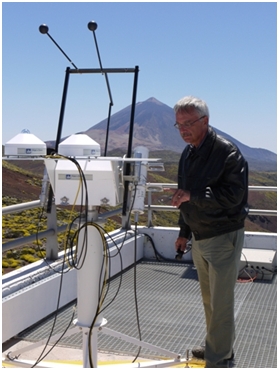 Christoph Wehrli, Head of the WORCC, by the PFR at Izana on June 5, 2009.
The newsletter is accessible at: