Follow-up meeting and dissemination of TEIDELAB projects

Teidelab is a brand that carries out the joined activities between Teleférico del Teide S.A. and other institutions to create high quality content and distribute cultural and scientific information regarding Teide National Park, with the objective of spreading and promoting the park's values.
Teidelab is formed by four projects, all of them pointed to research, dissemination and promotion the Teide National Park surroundings and natural values. These four projects are:
–          "Teide, cloud laboratory": aimed to obtain an exhaustive meteorological phenomena register taken place in Teide National Park, using high quality pictures and high temporal resolution "time-lapse" videos. CIAI (AEMET) is strongly collaborating in this project.
–          "Stars4all": a European project to which the Canary Islands Institute of Astrophysics (IAC) is attached; the objective is to raise awareness about light pollution by revealing the beauty of a clean sky, through the diffusion of Teide's starry sky.
–          "Teide 3D Vision": 3D production of the geological formation of Las Cañadas del Teide, to make easier the understanding of the most significant phenomena that formed the landscape of Teide National Park.
–          "The Sky and Teide": these exposition, which is still in the production stage, will present the unpublished results of the research projects being carried out by Teidelab.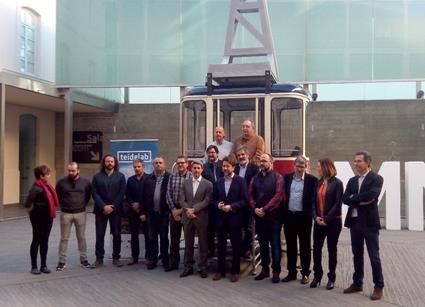 The president of the Cabildo de Tenerife, Carlos Alonso, along with the directors of Teidelab projects and representatives of the main institutions involved, among them, AEMET through the CIAI.
On 27th march 2017 a follow-up and dissemination meeting of the Teidelab projects was held in the Museum of Nature and Man of Santa Cruz de Tenerife. This meeting was attended by the directors of different projects and also by some of the representative main institutions involved on it, as Teleférico del Pico del Teide, the Canary Islands Institute of Astrophysics, the National Geographic Institute, the Technological Institute of Renewable Energies (ITER), the Izaña Atmospheric Research Center (from AEMET), etc. There were also a numerous media. In this occasion, the president of the Tenerife's Cabildo, Carlos Alonso, highlighted the cooperation between institutions and the effort made for the dissemination of research made in this island, and in the Teide's surrounding. The manager of Teleférico del Teide S.A., Ignacio Sabaté, highlighted the AEMET's scientific station at Pico del Teide, as the highest observatory in Europe (3.555 m a.s.l.). This station is involved in the Global Atmospheric Watch program of the World Meteorological Organisation, and also in AERONET (Aerosol RObotic NETwork) from NASA.
See also "Teide and Science":
https://www.volcanoteide.com/en/national_park/teide_and_science
Teide Clouds-Lab: