Tenerife in the European Allergy Network webpage.
Tenerife in the European Allergy Network webpage.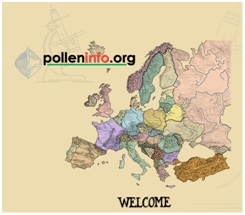 The aerobiological sampling station at Tenerife (the Canary Islands) has been included into the European Allergy Network (EAN). Once in this web page, clicking on the map of Spain, different institutions in charge of sampling stations of several Spanish Autonomous Regions (in alphabetic order) are displayed. Looking for "Canarias" you will find a direct link to pollen and spores information in Tenerife provided by EOLO-PAT project. It includes historical (since October 2004) and present graphs of pollens and spores, forecasts of the main allergenic pollen and spores for Santa Cruz de Tenerife, and a pollen calendar for this city.
The www.poleninfo.org is available in English, Spanish and German. We hope this information will be of the maximum interest for thousands of people with allergic problems that visit Tenerife every year.