The IARC participated in the VII edition of the Science Fair of La Orotava
The Izaña Atmospheric Research Center participated in the VII Science Fair of La Orotava. This initiative began in 2004, and its aim is to bring science closer to society in a fun, enjoyable and educational way. Science Fair, which took place at the Casa de la Cultura de San Agustín, from 11:00 to 19:00 hours on Sunday 13 November, was attended by 16 research centers, businesses and associations stands, which reported research results, organized workshops and gave information about the participating entities.
The IARC occupied a stand where information about the main lines of research conducted in this center were shown. Visitors could view real-time data (images from cameras installed at the Izaña Observatory, radiation measurements, etc.) and could know our website (www.aemet.izana.org).
The fair attendees were very interested in the different tasks performed in the IARC.
The Science Fair of La Orotava, is sponsored by the City of La Orotava, TFinnova and the Canary Research, Innovation and Information Society Agency. In this edition the fair had the cooperation of Saturn Tenerife, Coca-Cola, Innova 7, Autonomous Agency for Museums and Exhibitions, Acanmet, Shelia, IAC, Alpha Cygni, AVCAN, CAI, ERUs, ITER, and the University of La Laguna Faculty of Mathematics, and production from Cienciamanía.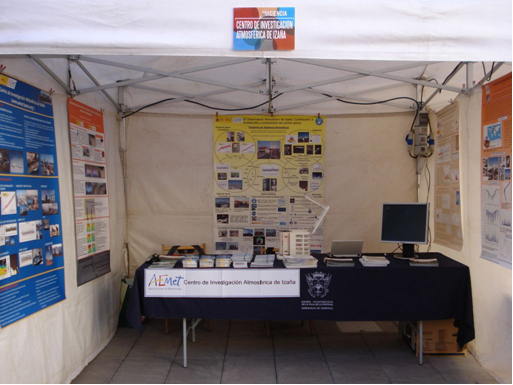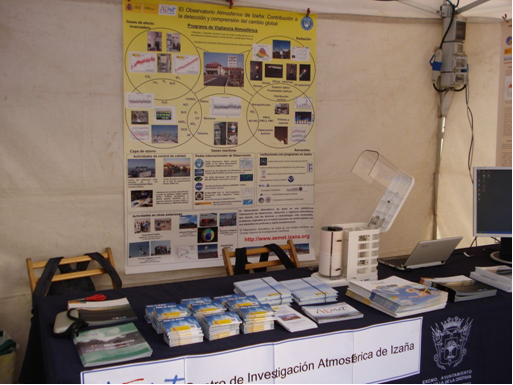 The Izaña Atmospheric Research Center stand at the VII Science Fair of La Orotava.