Joint Participation of the CIAI with SIELTEC Canarias in the Orotava Science Fair.

 

The Constitución square at the Orotava village hosted on November 13 the most important scientific event of whatever are celebrated in the Canary Islands. Exhibitions, lectures, workshops, a planetarium and an area dedicated to the latest innovations in video games served to bring the scientific activity for children and adults in an entertaining and understandable way. Were present both scientific organizations and associations as R&D companies as well as numerous media such as Radio Nacional de España, which recorded a special program.

This time the Izaña Atmospheric Research Center opted for an innovative approach: make a joint exhibition with the engineering and R&D Sieltec Canarias company of some instruments that have been developed together, and do it in a practical and informative way. An automatic weather station was used to explain to visitors the meteorological parameters measured with it and the basic instruments that constitute it. A SONA all-sky camera developed by CIAI and SIELTEC was exhibited, showing in a computer the databases of sky images taken with SONA cameras installed in several Spanish stations.

However, the experience that received the most public attention was that of the sunglasses sunlight attenuation using a CCD spectroradiometer, which is being jointly developed for numerous atmospheric and environmental applications. It was specifically adapted for this fair .The sensor was placed in one of the eyes of a mannequin, which was connected by fiber optics to the spectroradiometer. The mannequin was receiving direct sunlight, with and without sunglasses displaying on the computer screen the respective spectra. Thus dozens of visitors had the opportunity to test their sunglasses in the ultraviolet and visible range, and so their quality, while serving to introduce concepts and ideas about the solar radiation, its spectrum, etc. This experiment was highly participatory in compliance with the spirit of the fair. César López, Dévora Gonzalez, Priscila Ramos y Francisco Vera, from SIELTEC Canarias, Ramón Ramos y Emilio Cuevas, from CIAI-AEMET, and Fernando Almansa (CIAI-AEMET/SIELTEC Canarias) answered questions from visitors to the joint stand.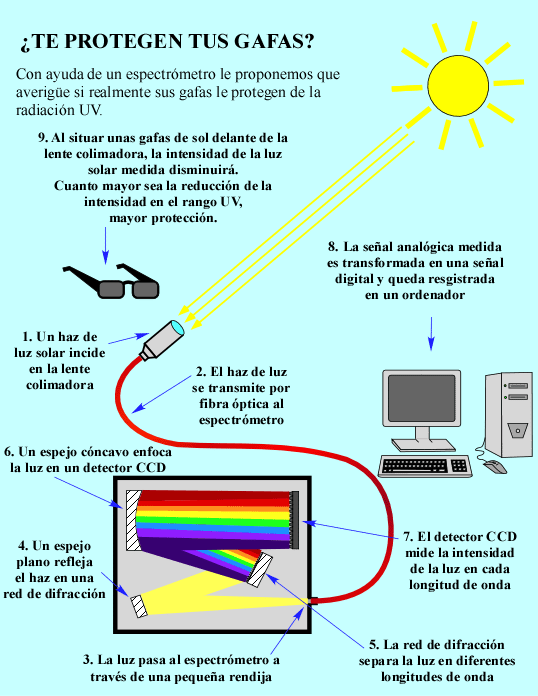 | | |
| --- | --- |
| | |
Fernando Almansa (CIAI-AEMET/SIELTEC), expert in spectroradiometry,  showing the spectrum attenuated by the sunglasses of a visitor. On the right, detail  of the spectroradiometer sensor in the left eye of the mannenquin.
From left to right: Emilio Cuevas (CIAI-AEMET, Director), Cesar Lopez (SIELTEC Canarias, Director) and Fernando Almansa (CIAI-AEMET/SIELTEC Canarias) in front of the stand with the automatic weather station.
Cesar Lopez (Director of SIELTEC Canarias) with the SONA cloud observation camera.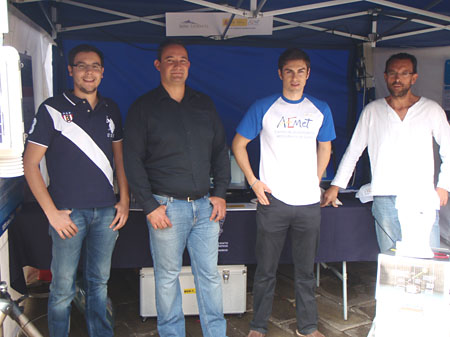 From left to right: Francisco Vera (SIELTEC Canarias), Cesar Lopez (SIETEC Canarias), Fernando Almansa (CIAI-AEMET/SIELTEC Canarias) and Ramon Ramos (CIAI-AEMET).