The first ozonesounding at the new "Jardín Botánico" station
The first ozonesounding at the new "Jardin Botánico" Observatory (BTO) was launched on Wednesday October 13, 2010. That was a pre-operational launching. The ozonesonde flight trajectory can be tracked clicking here if you have installed Google Earth in your computer. The vertical profiles of temperature, relative humidity and ozone are displayed in this graphic.
The new station is located at a research facility of the
Botanical Garden of La Orotava
, part of the
ICIA (Instituto Canario de Investigaciones Agrarias)
, of the Canary Islands Government, in Puerto de la Cruz (Tenerife Island). A full equipped automatic weather station (temperature, relative humidity, pressure, precipitation and wind), a global irradiance pyranometer, and a surface ozone analyzer (also used for additional ECC electrochemical sondes ground checking) are the complementary equipment, at the moment. The ozonesonde program of the Izaña Atmospheric Research Center was initiated in November with regular flights (normally one per week) from Santa Cruz de Tenerife station (36 m.a.s.l.). This program provides ozone profiles from the ground to the burst level (generally between 30 and 35 km). This program is part of the
Network for the Detection of Atmospheric Composition Change (NDACC)
. The NDACC quality control and quality assurance requirements are met at Tenerife ozonesonde station. Data is routinely archived into the NDACC and NILU databases.
The ozonesonde station has been moved from
S/C de Tenerife
(SCO)  to  BTO at
Puerto de la Cruz
  (25 km distance, at the same altitude near sea level) to avoid the take-off and landing corridor of the North airport (TFN) and the restricted fly sector controlled by the Aviation Safety Agency which limited the operability of the former station. So, special ozonesonde launches, out of the weekly schedule, intensive campaigns and experiments with new sensors can be performed at the new station with no restrictions. The new station has been equipped with a new receiver Digicora MW31 and updated acquisition and processing Vaisala METGRAPH software. Ozone soundings will be acquired and processed in the new station (BTO), simultaneously with the former receiver Marwin-11 for a long period to evaluate data series overlapping.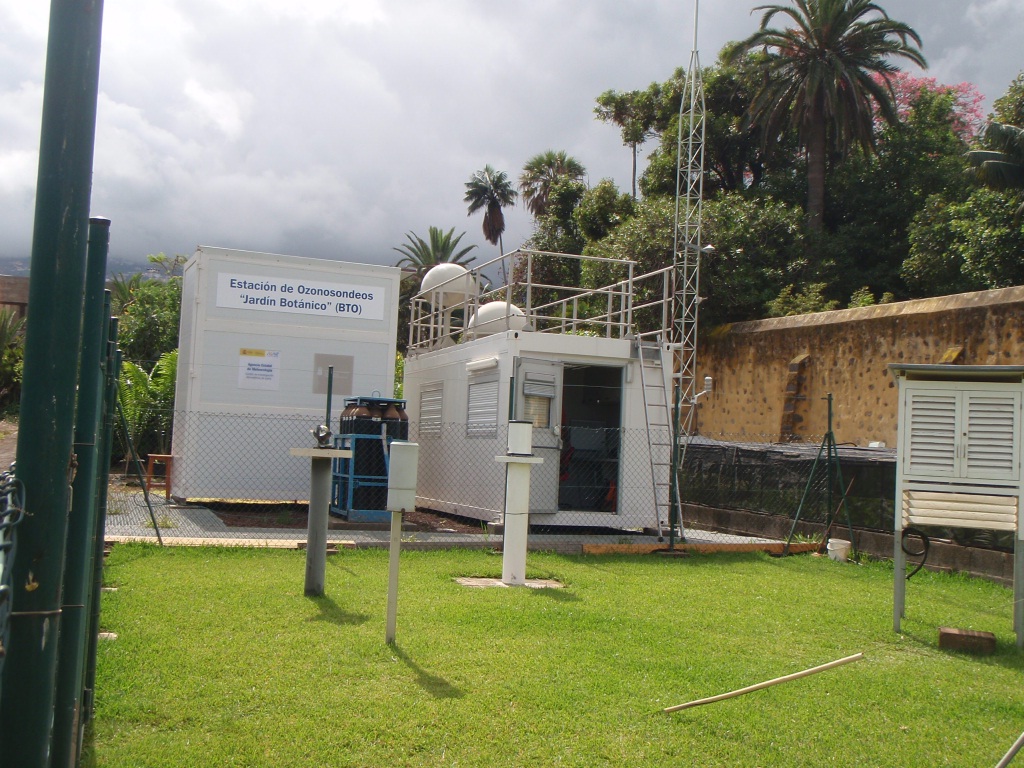 Picture of the new ozonesonde "Jardin Botanico". The cabin (right) hosts the Digicora MW31 receiver, the GPS and signal antennas (on the roof), and the chemical lab to prepare the ECC solutions. The shed (left) is used for 1,200 g balloon inflation with helium. The ultrasonic wind sensor is on the top of the 10m mast.